LMScheckout is about to simplify the way students experience multiple sessions of a live class.
Organizations who use an LMS to teach the same class multiple times in multiple locations will now be able to create any number of instances of the same class instantly.  Much like Google calendar, which can generate multiple events, The LMSCheckout can use a single course on the LMS to create hundreds of sessions of the same class. And all of those class sessions will link to the same course on the LMS. No longer is it necessary to create a sperate course for each live session of the same course.
Previously, only the session titles displayed to the student in LMScheckout. This method resulted in a confusing display of similarly titled sessions with no real way to identify the differences between each session.
Improved user experience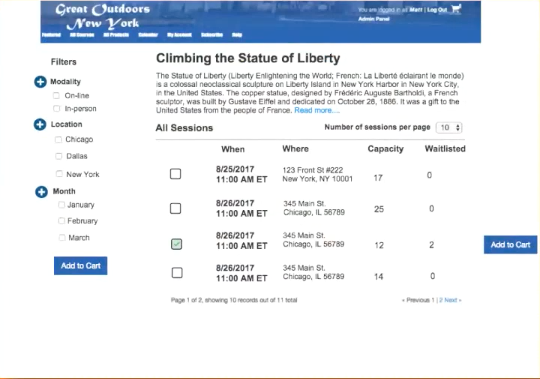 The new update is designed to improve the user experience. Now when a student searches for a keyword or course title, they are presented with a list of course names that fit the search criteria. When the student clicks on course with multiple sessions, they can view all the available sessions of that course. They can then filter on the class modality, location, or the date of the class, further refining the list to suit their needs.
This improved workflow is the result of requests made by our customers currently using this feature and should be available in the next few weeks.